Meet the faces behind the TV ad
We weren't able to elaborate on their volunteering stories in the short 30 second TV ad, so have a read below to find out more about what makes them tick and their amazing volunteering achievements.
Nancy Serisier
Migrant Resource Centre Northern Tasmania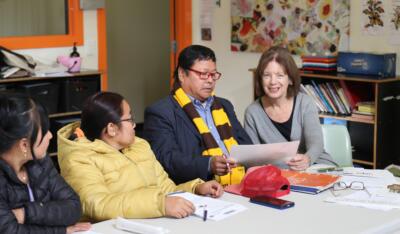 Nancy has been a volunteer with the Migrant Resource Centre North for more than 10 years. Her experience and skills as a teacher have transferred smoothly to her role as a volunteer educator at the centre.
Nancy says she loves meeting new people through her volunteer work.
"I really enjoy getting to know people from other cultures and I feel both privileged and humbled to gain an insight into their beliefs and backgrounds. Working alongside people who have come to Australia on humanitarian visas is enlightening in so many ways. I am amazed at what they achieve in such a short time. They set their own goals, and to watch their confidence grow as they work towards attaining these, is quite uplifting."
One of the great things about volunteering, according to Nancy, is the huge diversity of roles available to everyone.
"There are countless volunteer positions for people of all ages to choose from. Australian society relies on this unpaid workforce. We need to be aware that we are not only members of our local community, but also that we have a responsibility towards the global community. You will find it a privilege to take up the challenge of getting involved."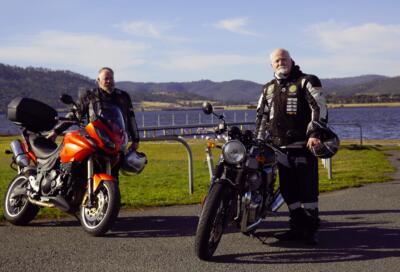 Ken's enthusiasm and tireless passion to raising awareness about skin cancer has proven vital in improving the lives of Tasmanians. He almost single-handedly organises the Run from the Sun event – a program that visits secondary and tertiary aged schools and colleges around Tasmania, raising awareness about the dangers of melanoma. His actions are truly saving lives and through his courage in talking about his fight with the disease, not only at this event but at other events such as the Wellness Expo and in both mainstream TV, radio and online media platforms, Ken has been able to reach many thousands of Tasmanians.
He says what motivates him to volunteer is the sheer enjoyment of helping others.
"The best part of volunteering is the pure joy of helping others in some way. I think that, in general, all people want to help others, they just don't know how. I simply enjoy what I do and when you enjoy what you do, it is very easy to keep coming back and doing things for the organisations that I volunteer for."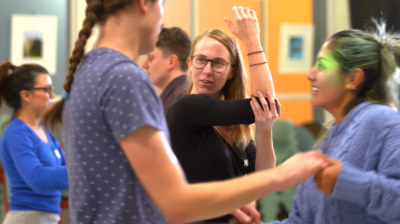 Nicky is the president of the University of Tasmania (UTAS) Salsa Dance Society, a dance school which organises weekly dance classes and social events for students and others. In addition to being the key event organiser, she is also in charge of training new teachers, coordinating the volunteers, and managing social media and promotion. Nicky is the leading force behind creating a community and learning environment that welcomes and celebrates diversity of ages, bodies, nationalities, and identities, and does so in an incredibly well-organised way.
Nicky explains what volunteering means to her:
"I think many of us see things in our community that need changing – whether it is about people, or the environment not being treated well enough, or just the lack of a cup of coffee for the parents bringing their kids to basketball on an early Sunday morning. Rather than hoping someone else will fix this or waiting for a job to open up in this field, I love how volunteering allows me to step up and make a difference right away."
On top of her work with the UTAS Salsa Dance Society, Nicky is also convener of Fossil Free UTAS, where she spearheaded the student activism that was instrumental to UTAS declaring its intention to divest from fossil fuels in October 2020.
Nicky says there are many reasons why she would encourage people to try volunteering:
"I think there are so many reasons for why volunteering is great: you meet new people that you otherwise would not have met; you can learn amazing skills that are so useful in many parts of your life; and you can make a difference to your community, and it just feels good to be useful. Also, a few years of volunteering has brought me job offers, a small income, and a killer CV!"